Things Pertaining to Bodhi
The Thirty-seven Aids to Enlightenment
By Chan Master Sheng Yen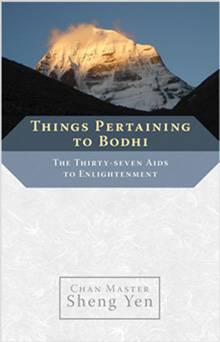 The Thirty-seven Aids to Enlightenment are a set of fundamental teachings of Buddhism in the form of a list. The list's seeming simplicity belies the fact that it is actually a kind of road map to enlightenment for anyone who follows it with diligence and sincerity. The Thirty- seven Aids comprise seven groups of practices conducive to awakening. Each of the seven groups is itself a list of enlightenment factors, which add up to a total of thirty-seven: (1) The Four Foundations of Mindfulness, (2) The Four Proper Exertions, (3) The Four Steps to Magical Powers, (4) The Five Roots, (5) The Five Powers, (6) The Seven Factors of Enlighten- ment, and (7) The Noble Eightfold Path. Master Sheng Yen's down-to-earth teachings take the reader on a progression through each of the practices, illustrating how they relate to the reader's own path toward enlightenment.
Purchase online from Amazon
or
contact CMC
for more information.