News
Monday, November 00, 0000
Venerable Chang Wu, Vice Managing Director of Dharma Drum Mountain branches in North America and Director of Dharma Drum Mountain Vancouver Center, was invited to lead a seven-day Chan retreat again at Chan Bern, starting from July 10. The retreat was conducted both online and in person. The twenty-four participants came from eight countries in four different time zones, including Switzerland, Germany, Liechtenstein, Austria, Finland, Belgium, the UK, and Canada. Although some online participants only attended partially due to time differences and their busy schedule, they nonetheless demonstrated their eagerness and devotion to practice. On July 9, the Venerable first gave a Dharma talk on "Chan Practice in Daily Life for Monastics." She started off by explaining the similarities and differences between Mindfulness-based Stress Reduction (MBSR) and Chan Buddhist practice. She then went on to demystify the Buddhist monastic life, conveying the spirit of &ldqu...
Dharma Drum Mountain continues to be a calming force during the pandemic, through both caregiving and educational efforts. On June 29, 2021, Dharma Drum Mountain's Sangha group sent brand new laptops to Indigenous students in Nanto, Taiwan ahead of schedule. On June 30, Dharma Drum Mountain Social Welfare and Charity Foundation donated tents to Chiayi County Government so that people who are getting vaccinated at eighteen sites-- including health centers and chronic disease centers in the county-- can be shielded from the sun and rain. Chiayi County Mayor, Weng Chang-liang (翁章梁) stated: "To fight against the pandemic, the county now is equipped with vaccines and large vaccination sites. We are grateful that Dharma Drum Mountain donated the tents so that frontline staff and citizens have a comfortable place to conduct vaccinations effectively. In doing so, we can protect citizens from the virus." Venerable Chang Yuan, Managing Director of Dharma Drum Mountain, says, "As we face the pandemic and accept the impermanence of life, more and more people dedicate themselves to helping others. It is especially moving that helpful people are everywhere during this difficult time. The DDM Sangha group will continue to provide care and educational assistance in accordance with the needs of the government, medical units, and charities." He also expresses gratitude for the trust from people of all walks of life, and hopes that everyone stays calm, protects each other, and brings peace of mind to more people. DDM has sent medical supplies for COVID-19 treatments and prevention to Saint Mary's Hospital Luodong, Taipei Veterans General Hospital, National Taiwan University Hospital and its Jinshan Branch, the Heping and Renai branches of Taipei City Hospital, Taipei Guandu Hospital, Cathay General Hospital, and New Taipei City Hospital, etc. In addition, DDM has offered thermometers and Peace Amulets to people who are being tested at health agencies nationwide, wishing people safety and good health away from the disease. Text: Chang Yao-Chuang (張曜鐘) Photos: Lin Ya-Ying (林雅櫻), Chang Tian-Pei (張田沛), Chiayi County Government Translation: Hsiao Chen-an Editing: Yeh Shu-jen (葉姝蓁), Keith Brown
A series of lectures themed on the Vimalakirti Sutra will be held from 7 to 9 pm (PST) on 7/24 (Sat), 7/28 (Wed), 7/31 (Sat), and 8/4 (Wed). Organized by Dharma Drum Mountain San Francisco Bay Area Center, the lectures will be given by Venerable Chang Chi in Chinese. Chinese to English simultaneous interpretation is provided in the Zoom meeting room. ((ID: 83787828401, PW: 683670) Vimalakirti Sutra addresses the core ideas of Mahayana including Pure Land, Non-Duality, and the Bodhisattva Path. Vimalakirti penetrated thoroughly into the doctrines and remained neither attached nor detached in worldly life. Using his own illness as opportunities to deliver inconceivable liberation in accordance with the karmic roots of ordinary people, Sravakas, and Bodhisattvas, he created the reserved pure land in everyone's mind. Venerable Chang Chi graduated from Dharma Drum Sangha University (DDMSU) in Taiwan, studying Chinese Chan Buddhism. Currently, he is the Vice President for Academic Affairs of DMMSU. Before that, he was a lecturer in Chan Hall of the DDM headquarter, DDM Meditation Activity Department, and DDMSU.
In the 21st century, how to free your mind and body is an urgent issue. Dharma Drum Mountain Los Angeles Center will give an online course "Culture and Koans of Tea in Tang Dynasty" from 7 to 9 pm (PST), July 10 (Sat), 14 (Wed), 17 (Sat), and 21 (Wed). Chinese to English simultaneous interpretation is provided in the Zoom meeting room. (PW: 2021) Koans are historical anecdotes about individual enlightenment experiences of certain ancient Chan masters. The design of this course is to use the very ordinary and common "tea time" in daily life as a mirror to reflect the flexibility and wit of Chan (Chinese Zen). This course will be given by Venerable Guo-Jing, the current Director of Chung-Hwa Institute of Buddhist Studies. She became one of Master Sheng Yen's monastic disciples as soon as she got a BA degree from Soochow University. Earlier, she was assigned to work as the Director-in-chief at Nung Chan Monastery and the Vice Dean of Dharma Drum Sangha University. Later, she started at worked as the Director of Chung-Hwa Institute of Buddhist Studies, and has been teaching as a full-time Assistant Professor at Dharma Drum Buddhist College, which was later merged into Dharma Drum Institute of Liberal Arts.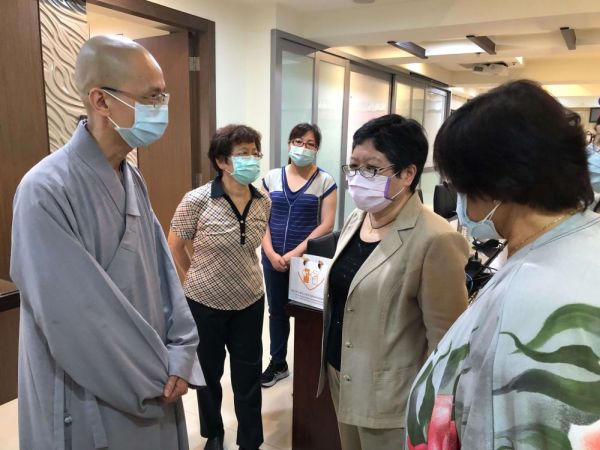 On May 28, 2021, Dharma Drum Mountain Social Welfare and Charity Foundation (DDMSWCF) gave the Amulet of Peaceful Mind to the Taiwan Union of Nurses Association (TUNA), in the hopes of bringing peace of mind to the frontline medical staff fighting against COVID-19 under pressure from tight medical resources. Venerable Chang Shun, director-secretary of the foundation, presented Kao Ching-Chiu (高靖秋), Chairperson of the association on behalf of all the nurses in Taiwan, with the amulet. Since the COVID-19 alert level for Taipei and New Taipei Cities rose to Level 3 in mid-May, Wanhua District has been one of the most impacted regions of Taipei. Lin Lany-in (林蘭因), director of Wanhau Lonshang Elderly Service and Day-care Center, remarked that 73 out of the nearly 200 elderly people served by the center are either low and lower-middle-income residents, or are in financial difficulties. An average of 40 of them visits the center monthly to receive free necessities such as rice, noodles, and canned food. Chu Kuan-hsun (朱冠勳), a social worker of the Center, mentioned that the elderly are facing difficulties due to the surge of confirmed cases in the district in mid-May, which had stopped fundraising events and this impacted the amount of donated materials the Center received. In response to this situation, DDMSWCF has decided to provide funding to the Center every month from July to the end of the year for purchasing daily necessities for the elderly living alone. Hsieh Li-hua (謝麗華), director of Wanhua Center for Social Welfare, stated that disadvantaged groups in Wanhua, such as vagrants, are of great concern to social workers as the number of confirmed COVID-19 cases surges in this district. The center is experiencing a shortage of personal protection materials. In response to this urgent need, DDMSWCF sent 2000 face masks to the center on May 19 for distribution to the homeless people to help prevent further spread of the pandemic. Since the onset of this outbreak, frontline medical personnel in the Bopiliao Historic Block Rapid Testing Station, Wanhua, have suffered enormous pressure on the resource. On May 25, DDMSWCF provided thirty boxes of blessed Great Compassion Water to help relieve their anxiety and to provide them a sense of peace. On June 1, the staff of DDMSWCF delivered the Guanyin Amulet of Peaceful Mind, Master Sheng Yen's 108 Adages of Wisdom, and 75 boxes of blessed water to the medical personnel in Taipei City Hospital Renai Branch and Taipei City Hospital Heping Branch, both of which are designated COVID-19 treatment hospitals. . DDMSWCF stated, "During this challenging time, our mutual cares, understanding, and well wishes to each other are the source of stability and support for the society and individuals. May the government and all Taiwanese's collaborative efforts to stop the spread of the pandemic bring an end to it soon, and all could live in peace and at ease." Text & Photos: Dharma Drum Mountain Social Welfare and Charity Foundation Translation: Hsiao Chen-an Editing: Shujen Yeh, Greg Aiani
Dharma Drum Retreat Center (DDRC) will hold a 7-day in-person retreat "How To Meditate: Right View Chan Training Application" from July 11 to 17, 2021. The retreat will be led by Gilbert Gutierrez, and will focus on getting the basics of meditation to help practitioners make proper progress. It will mark the first public in-person event by the center since the COVID-19 quarantine. Applicants would need to show proofs of being fully vaccinated no later than June 27, 2021. During the retreat, participants will be required to wear masks and keep social distancing. Gilbert Gutierrez is one of the Dharma Heirs of Master Sheng Yen, the founder of Dharma Drum Mountain. He has over thirty-nine years of meditation experience. He teaches in a classical Chan style which inspires his students to investigate Chan through diligent practice. Since space is limited, the center urges those interested to apply early. For more information about how to register and the other requirements, please visit https://dharmadrumretreat.org/upcoming-events/7-day-how-to-meditate-retreat/
May 9th, 2021, is the graduation day of the Happy Buddhists online course jointly held by Dharma Drum Mountain Laity Education Department, San Francisco Bay Area Center, Los Angeles Center, and Vancouver Centre. On the same day, a Refuge-taking ceremony was also conducted. Some 130 students from Europe, Asia, and North America watched the ceremony and sent their blessings via live-stream to the thirty-three refuge takers, some of whom are located in Europe, Canada, and the US, aging from 20 to 80. Venerable Chang Yue, who performed the Three-refuge Taking ceremony and transmitted the Five Precepts, said "To take refuge is to start practicing on the path for attaining Buddhahood. It means that we regard the wise and compassionate Buddha as the model, use the teachings from the Buddha and the patriarchs through history in our daily life, and see the Buddhists who are also on the path as friends and teachers. After the ceremony, you will be the Buddha's students. Never forget to hold the Five Precepts; pay attention to your bodily, verbal, and mental actions; make less bad karma; decrease karmic obstruction; do wholesome deeds rather than bad ones; cultivate good affinities with all sentient beings. This way, you won't fall into three evil paths of rebirth and will be protected by thirty-six deities, helping you to practice on the path." Some 10 monastics from Dharma Drum Mountain Laity Education Department, San Francisco, Los Angeles, and Vancouver centers gave lessons in the Happy Buddhists course. The contents included introductions to the Three Jewels, the meaning of taking refuge, how to practice as a Buddhist (focusing on bodily, verbal, and mental actions), Buddhist manners, how to practice at home, Dharma Drum Mountain (DDM), Chan Meditation, Dharma Assembly, the correct views of Buddhist practice, and other courses by DDM etc. All of the students stated that they had learned a lot in the course. The introductory lessons gave them more faith and determination in learning Buddhism. They hope that they can deepen their understanding so that they can apply Buddha-dharma in daily life and share it with others. The Links to relative courses by Dharma Drum Mountain Dharma Drum Mountain San Francisco Bay Area Center Dharma Drum Mountain Los Angeles Center Dharma Drum Mountain Vancouver Centre Dharma Drum Mountain Laity Education Department (Only in Mandarin) Text: Shih Hsiao-Ying (史曉英) Translation: Hsiao Chen-an Editing: Una Yang, DDM Australian Editorial Team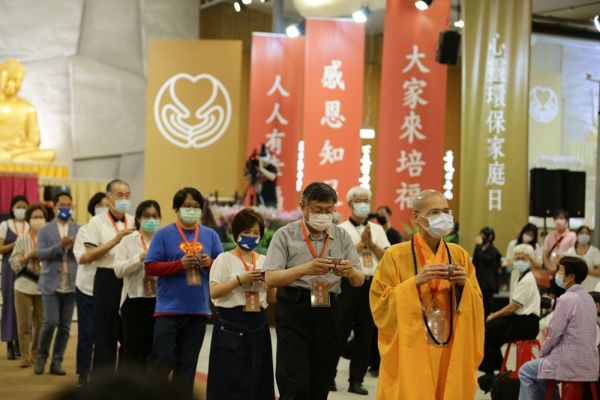 On May 9th, 2021, Dharma Drum Mountain (DDM) held a "Family Day – Protecting the Spiritual Environment" event at Nung Chan Monastery to celebrate the Buddha's Birthday and Mother's Day. To commemorate the birth of the Buddha, Buddhists bathe an infant Buddha statue with scented water. Thus, at 10 am, Taipei Mayor Ko Wen-je (柯文哲), President of DDM Association of Dharma Supporters Chang Chang-Pang (張昌邦) and his wife, as well as Taiwanese celebrities, namely, Chao Tzu Chiang (趙自強), Yang Yueh-e (楊月娥), and Allen Ko (柯有倫) were led by the Abbot President of DDM, Venerable Guo Huei, to bathe the statue of Prince Siddhartha as an expression of gratitude for his teachings. Thereafter, Venerable Guo Huei led the prayer to pray for world peace and safety. "Today is both Mother's Day and the Buddha's Birthday. Let us express gratitude to our parents for giving birth to us and to the Buddha for his teachings that enable us to learn and practice the Dharma", said Venerable Guo Huei. "Be grateful and repay kindness; benefit others and you can benefit yourself." With this quote Master Sheng Yen, the founder of DDM, Venerable Guo Huie urged everyone to cultivate the mind of appreciation, repaying kindness, and to say "I love you" to mothers. "The Earth is our mother. We should also appreciate her generosity." Venerable Guo Huei mentioned that we should actively promote Four Kinds of Environmentalism to protect our mental health from the negative effect of the environment. He encouraged us to treat everyone as if they are our family members or Bodhisattvas; to live a simple life and to conserve natural resources for our future generations. The Mayor of Taipei, Ko Wen-je (柯文哲), shared Master Sheng Yen's Four-Step Approach to Problem Solving, that is, "Face it, Accept it, Deal with it, and Let it go". He indicated that this Four-Step Approach could be applied to deal with the COVID-19 pandemic. In addition, he hopes that the pandemic will end soon and we can return to pre-pandemic normal. He also expressed his appreciation to all mothers for their effort of keeping their families safe in this trying times. One of the highlights of the "Family Day – Protecting the Spiritual Environment" event was the tea serving ceremony. Attendees served teas to their mothers, senior family members, and those that they wished to show their appreciation to, making this event especially meaningful. In accordance with the government's epidemic prevention regulations, attendees were socially distanced and only a limited number of people were allowed in the venue. Even though the COVID-19 pandemic is raging worldwide, Dharma Drum Mountain still aims to share easy methods of Chan practice so that people and the society as a whole can be at peace. Text: Lin Ya-Ying (林雅櫻) Photo: Lee Fan (李東陽)、Lee, Jia-Chun (李佳純)、Chang Tian-Pei (張田沛), Lin Ya-Ying (林雅櫻) Translation: Hsiao Chen-an Editing: DDM Editorial Team, Leefah Thong
On May 22, starting at 10 am (PST), Dharma Drum Mountain Vancouver, San Francisco Bay Area, and Los Angeles Centers conducted a live-streaming Bathing the Buddha Ceremony via Zoom and Facebook. Some 200 families worldwide attended the event to celebrate the Buddha's Birthday together. Abbot President Venerable Guo Huei shared how he planned to review the works of Master Sheng Yen, the founder of Dharma Drum Mountain, during the COVID-19 preventive period. He reminded everyone to take proper precautions and pay moderate attention to the current situation of the pandemic. No matter how long the pandemic prevails throughout the world, we should calm ourselves and others using Buddha-dharma. This event marked the first time that the three centers invited devotees to attend an online Bathing the Buddha ceremony via electronic devices such as computers and cellphones. Venerable Chang Wu, the director of Vancouver Centre, performed the ceremony and bathed the Buddha's statue on behalf of all the attendees. Venerable Chang Wu remarked, "We bathe the Buddha's statue to express gratitude not only for the birth the Shakyamuni Buddha, but also, more importantly, for his teachings and insights arising from the Buddha's enlightenment, which show us the way to free ourselves from all suffering and attain Buddha-hood." Dharma Drum Mountain's branches and monasteries in North America have remained closed for nearly half a year since preventive measures were imposed last year. Venerable Chang Xing, Director of the San Francisco Bay Area Center, noted that devotees were initially forced to make changes, after which they gradually accepted the situation, and finally, came to embrace changes in the way they participate in Buddhist events. Venerable Chang Yue, Director of the Los Angeles Center, regards crisis as an opportunity for self-transformation, and thus has been facilitating events to go online. Venerable Chang Wu, Director of the Vancouver Centre, proposed that these events be conducted both in person and virtually once the pandemic situation improves, to accommodate those who prefer joining practice events online. Finally, the Abbot President reminded everyone that "Though material deprivation may cause people inconvenience, it is spiritual poverty that will lead to crisis for humanity." He also expressed gratitude to Dharma Drum Mountain's monastics and volunteers in North America for actively interacting with other religious groups to broaden their horizon and vision of sharing the Dharma. He stressed that only through mutual respect, understanding, and cooperation can religious groups really help enhance world peace and the well-being of humanity. Text: Dharma Drum Mountain Vancouver Centre Translation: Hsiao Chen-an Editing: Chang Chia-Cheng (張家誠), Keith Brown
The New Year's Auspicious Offerings to the Buddha held by Dharma Drum Mountain Thailand (DDM Thailand) was successfully concluded on Feb. 12, the first day in the Lunar New Year. In spite of the number of people at the gathering being limited by the Thai Government's Covid-19 precautionary measures, some 80 Taiwanese and Chinese expats came to worship the Buddha. Lee Ying-yuan, Taiwan's representative to Thailand who had once attended Chan Retreat for Prominent Professionals, also participated in the ceremony in the company of his wife. He took the opportunity to share some of his experiences of Master Sheng Yen's Dharma talks. Also present in the early morning assembly was Phra Sophon Vachiraporn(Sawai Chotiko),vice-president and deputy director of Office of International Affair of Chulalongkorn University, who visited the monastery to give blessings. After lunch the "Sutras Transcribing & Blessings Praying" event was held during which participants copied the scriptures of Ten-Phrase Avalokitesvara Sutra for Prolonging Life. The copies were made into an amulet, both as a blessing for peace and ease in the Chinese New Year, and as a reminder to greet the coming year with gratitude and joyfulness. Photos: Kuo Chi-Fan,Wu Ke-Chuan Translation: Hsiao Chen-An Editing: Min-Shi, Greg Aiani