Song of Mind:
Wisdom from the Zen classic Xin Ming
By Chan Master Sheng Yen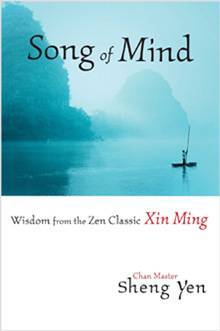 "No words can explain enlightenment," says the seventh-century Chan classic Xin Ming (Song of Mind) by Chan Master Farong (594-657). Even so, this poem wonderfully expresses what cannot be expressed in words. In his commentary, Master Sheng Yen takes the austere language of the Xin Ming and reveals to us its still-vital inner meanings. But his ultimate purpose is practical: to show us how to approach Chan meditation, how to deal with problems arising in practice, and how to integrate Chan into every aspect of one's life. The book is based on a series of 7-day intensive Chan retreats with Master Sheng Yen that took place over several years. Each chapter consists of a commentary by Master Sheng Yen on a section of the poem, thus guiding us stanza-by-stanza through this classic of Chan literature. The result is an intimate feeling of being there as he brings this classic to life.
Purchase online from Amazon
or
contact CMC
for more information.