Special Topics
​Into the Venue of a Dharma Assembly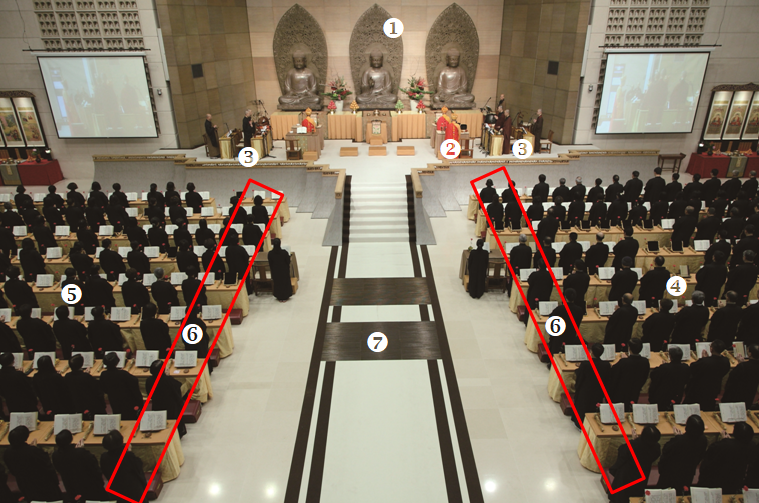 As the Buddha's statue1 symbolizes the Buddha's presence in a Dharma assembly, we pay our respect to the Buddha by bowing to the statue or join our palms with the upper body bending when walking by.

The role of the ritual monk2 is to burn incense as an offering to the Buddha and to lead the assembly in prostrating to the Buddha, practicing visualization, reciting sutras or mantras, making food offerings, and transferring merits on behalf of the devotees. In addition, the ritual monk is tasked with giving Dharma talks. As such, ritual monks are usually senior monastics who observe the precepts strictly and have a high degree of cultivation in Chan concentration.

The Monastics for Dharma instruments3 include the supervisory monk, disciplinary
monk, and monastics in charge of the wooden fish, hand-chime, bell and drum,
hand-gong, as well as cymbal. They either stand on both sides of the Buddha statue or
are seated on the first row.

The supervisory monk (Jianxiang) is situated in front of the hall, facing the participants. He provides instructions and guidance during and after the assembly, and most important of all, he encourages devotees to practice diligently.

The disciplinary monk leads the chanting session. He begins the chanting session by chanting alone; devotees then join in, following his pitch and tempo. He hits a large bronze bowl to signify the beginning and end of the chanting session.

The eastern
division4
and western division5: The Dharma hall is divided into two sections by a central aisle that leads to the Buddha statue in front of the hall. The section on the right of the aisle is known as the "eastern division"; the other the "western division". Men usually occupy the eastern division while women the western division.

In every row, the closest seat from the center aisle is the beginning of the row6; the farthest seat is the end of the row. The East section is symmetric to the west section. The basic principle for individual entry and exit is through the end of the row and group exit, on the other hand, starts from the beginning of the row.

The central aisle7 is reserved for monastics for Dharma instruments. Only devotees with permission are allowed to use the central aisle.
Resource:
Issue 375 of Life Magazine, Dharma Drum Publishing Corporation
Text: Editorial Team
, Dharma Drum Publishing Corporation
Translation: Hsiao Chen-an
Editing: Chang Chia-Cheng (張家誠), Leefah Thong
Extended Reading:
A Brief Introduction to the Development of the Dharma Assembly
What Should We Bring to a Dharma Assembly?
Dharma Assembly Attendee Etiquette
To Learn About Other Topics, Please Go HERE!