DDM Global News
​Peace to all from Dharma Drum Mountain Vancouver Centre
On Feb. 12 and 13 (Jan. 1 and 2 of the Lunar calendar), Dharma Drum Vancouver Center (DDVC) held two live streaming events: the New Year Offering Ceremony to Buddhas, and the Medicine Buddha Chanting Service. Under the indefinitely extended provincial stay-at-home order, the events brought consolation, warmth and strength to everyone and accompanied them in ushering in a peaceful 2021.

To reflect the Year of the Ox theme, Venerable Chang Wu, Director of DDVC, used the Ten Ox-Herding Pictures to demonstrate the process of practice, thereby encouraging everyone to cherish this period of life and to move forward step by step toward Buddhahood. She reminded everyone that only by practicing the methods of liberation with a down-to-earth attitude can we accomplish our practice on the Bodhisattva Path.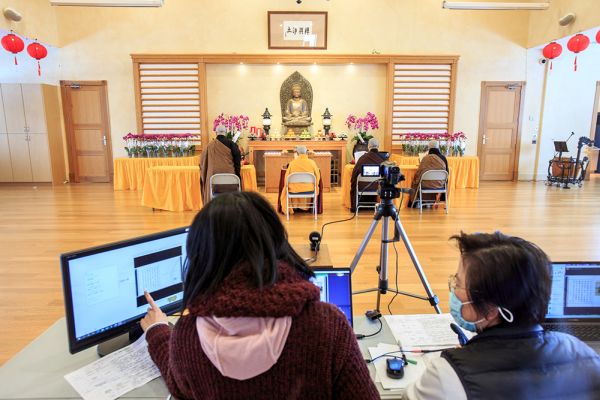 During the assembly, devotees performed prostrations and recitations. They also listened to the Dharma talk given by the Abbot President of Dharma Drum Mountain, Venerable Guo Huei. The monastics of the Centre, who have not interacted with devotees for a long time, gave their blessings and expressed their concerns to everyone online. Venerable Chang Min encouraged the attendees to explore their hidden abilities as well as continuously learn to let go in every situation. Venerable Chang Hui wished all the attendees peace, and that online events held by the Centre will successfully help everyone continue their study of Buddhism. Venerable Chang Wei wished everyone well and encouraged them to speak kind words, do good deeds, and make good wishes.

DDVC stated that in the coming New Year, due to the situation of the pandemic in North America, the Centre will continue to provide online live streaming events to help devotees in their practice. Even though the monastery is closed, online events have unlimited spaces, and can attract attendees from all over the world.


The online assemblies, retreats, and Buddhism courses in the first half of the year 2021 will take place one after another as scheduled. The Centre welcomes everyone to sponsor the activities and invite family members and friends to join in. The Centre hopes that by practicing Buddhism, not only can everyone find calm in themselves, but they can also emit peaceful energy to others in society during this time of uncertainty and malaise.




Test & Photos:
Dharma Drum Vancouver Center
Tranlation: Hsiao Chen-An
Editing: Mei Beh, Keith Brown